(16 votes, average: 3.19 out of 5)


Loading ...
World of Kung Fu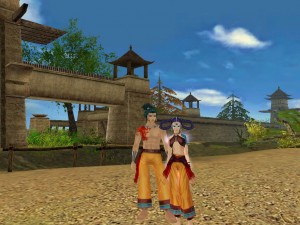 Description: Free-2-play online game based on Kung Fu and the Wulin society of Ancient China! The game world is very attractive and colorful. One of the best features of the game is that you can create your own Kung-Fu. What Kung-Fu movie fan has not imagined doing that? Although the game can be grindy at times, WoKF is one of the better free MMORPG today and quite possibly THE best martial arts themed MMO.
Download Size: .98 GB
System Requirements:
OS:windows98,2000,ME or XP
Processor:Intel Pentium IV 2.8 GHz or above
RAM:512MB Disk Space:2GB
Video Card :nVIDIA GeForce FX5600 or above
ATIi Radeon 9550 or above DirectX:9.0c
Other Support:DirectX 8 Sound Card
PC/AC Standard Keyboard & Mouse
World of Kung Fu Review by Marion Cubos
WoKF is really exciting at the beginning as you create your first character. You start in a remote village where you will learn the basic kung fu skills. After undergoing numerous tests and trainings and learning the chosen skills that you desired, you will then move up to the higher levels of training in a classic Kung Fu society. And then after that, it is in your own hands to explore the World of Kung Fu as a more advanced player. The plot is revolving around the ancient China, specifically the "Middle Kingdom".
Super cool skills if you love martial arts and fighting MMORPG's, rich graphics that will surely motivate your playing mood. This is a new MMORPG game, so grab a chance to be on the top of the player's list while you still have the time to do so. Highly addictive, and very good simulation, lots of things to do aside from leveling up, doing quests, you can also explore the world of Kung Fu and be captivated by its animated world. And the unique thing about this game is the Player versus Player is designed extremely cool since the fighting scenes are realistic Kung Fu style.
This game is extremely cool and has unique features compared to other MMORPGs. Aside from a unique 3D graphics that basically mimics the ever beautiful landscapes of China's countryside a lot more reasons for this online game to stay on top of the lists. The game is specifically designed and programmed to become as interactive as possible for the players and Game Moderators. The GMs are online in the game itself for you to interact with regarding anything about the game. Also, the event staff continually creates a variety of fresh interactive NPCs from time to time to give players new adventures. And the good thing is… this super cool online game is free to play!
World of Kung Fu Day 1 by Jeff Emery
So, I downloaded this game, and the first thing I noticed it was over a gig to do so, so if you are using DSL or Dial-up, expect a bit of a wait. Wait, meaning, watch a movie, make a sandwich. What you can do while you are waiting after you make that sandwich is make sure your DirectX and graphic drivers are up to date.
If you get that far, let's fire this .exe up and install it.Make sure you have the requirments before you do, or you'll not be able to play it, even the title screen can cause crashes if you don't have the minimum specs.
If you got this far, you are at the title screen and you need to sign up on the website, no worries it's free and takes just a few minutes like most free MMO's. Just go to https://passport.worldofkungfu.com/ fill it out and sign in.Next is the fun part, making your character. There is a male/female option, 10 different hairstyles, facial features and 8 different weapons to pick from. I picked a bow, but that is just me, sword, spear or even a fan can be deadly in this game if used right. You really don't know what to do once you start off in this game, there is no direction, only a ! on the mini map, so look there first, and that is where your gaming experience begins in this game.
World of Kung Fu Day 2 by Jeff Emery
This game is going to be confusing at first, aside from the fact that there is no base storyline before you plunge in, where you think you need to go is not actually where you need to go. This makes the game very hard to start off in and might make most people give up and try a more linear MMO. I followed the (!) on the mini-map and ended up in what seemed to be a PVP arena. Now, I could maybe find a FAQ, figure out if my assumption was right, but that would just be cheating.
Exploring in the town isn't hard, the eight weapon masters are right where you spawn, so that helps, but I found the chatting in the game confusing at first, and that is mainly because there are random system messages like; <Name> Released <Monster> while exploring. It is at <Location>. I can only assume these are rare monsters that drop rare items. The upside to this — or downside — is if you click on the location, your character moves to it automatically. I found this out, then checked my quest log, and there was a location, I hit it and there my character was off to the next part of my quest. This I find *very* useful, but I wonder if later in the game this can cause problems, like hitting a location and the game sends you into a pack of enemies that make short work of you.
Another thing I noticed, like most free MMOs is this has an item mall, or a cash shop if you will, and these can be dangerous to people that just start off in most games, the bang for your buck is lesser then what you can find ingame if you play it and usually only worth it at later levels. This is just my advice, if you want to spend real money on a game, make sure you like it and it's worth it to do so, for you.
Once you get into the meat of the game, you'll notice the interfaces bleed into each other, text is missing, so reading what you need to do next can be more of a task then just doing the quest itself, I'd guess that this is because of translation from one language to another.