(51 votes, average: 4.02 out of 5)


Loading ...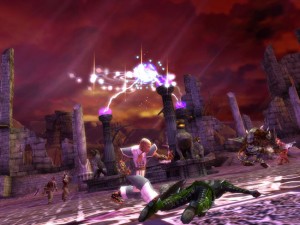 Experience the game that has captivated millions of gamers worldwide. Guild Wars® is an online roleplaying game that rewards player skill and innovative gameplay over hours spent online. It's the original smash hit release from developer ArenaNet®, the beginnings of a franchise played by almost four million gamers worldwide.
Company: ArenaNet and NCsoft
Year Launched: 2005
Premium Account, Advertising, or Item Mall: Needs to be purchased.
Free Account Restrictions: None
High End or Low End Computer Needed:Mid Range to Low End
Official Site: Guild Wars
Game Forum: Guild Wars Forums
Pros:
1. Millions of Guild Wars games have been sold.
2. Nice 3D graphics.
3. A good focus on PVP.
4. Installments have improved the game considerably.
5. Only one campaign needed to play the game.
Cons:
1. A sequel has been announced which ends successful formula.
2. Low level cap.
3. Heavily reliant on instances.
4. Not everybody wants to buy one of the campaigns first.
Review by EyEs
Guild Wars is one of the few games that has high quality graphics in a Free MMORPG. It's graphics can be compared to WoW and many other Pay-to-Play MMORPG's. Although it's graphics are a great attraction, the stylish gameplay, vast area's for PvE and great population also contributes to the games sucess.
Gameplay is what makes a game. Without the gameplay, the game just becomes graphics, and graphics can never keep people. That's why I'm rating the Guild Wars gameplay a 4/5. Guild Wars does a great job making the game playable for all kinds of people, such as Title-Hunters, Farmers, PvP-PvE, and more. They have over 300+ different areas across all 4 campaigns to play in, and 10+ different PvP areas. It takes months to get to all these areas, and months more to finish the game, which creates a never ending gameplay "effect" to the game. The part that got GW a 4/5 from me is the repetitiveness of the game. After you've gone through the game with one character, and want to start another, you realize you have to do everything over again, almost making it pointless (to some people) to make a new character.
Quests in Guild Wars aren't really an important thing. Unless you count missions as quests, which are the main way of leveling up, and because of these missions, I rate the quest/mission area in Guild Wars a 4/5. There are over 200+ quests in Guild Wars prophecies and all the other campaigns, but the main thing that most people use to level up is the Mission System. Every campaign has a storyline, and you fight in missions to complete the storyline. For every mission, you can get a possible 2k experience for completing it, plus the amount of exp gained from killing monsters. As you can see, this game has no need for the "Grinding" you see in so many games. The developer's definitely had the player's in mind when they devised this one of a kind leveling system. Although the quests become old, boring and tiresome after the second or third time doing them(Which is the main reason I gave this game a 4/5 for quests/missions), for those first few times of doing them, they are very fun and enjoyable. An incentive the game developer's released a few years after the release of Guild Wars was Hard Mode. Hard Mode is a mode that is attainable for the campaign, and only that campaign, of which you beat the final mission. Once you beat the final mission with one character, all characters will have the ability to have Hard Mode for that campaign once they reach level 20. This is a great incentive the developer's added, along with the End-Game-Items attainable once you complete Guild Wars: Factions, Guild Wars: Nightfall and Guild Wars: Eye of the North.
Community is something that Guild Wars has, but also lacks. In some places of the game, you will find the most dedicated gamers, and also the most polite. Whilst in the other parts of the game, you will find the rudest and most juvenile gamers you have ever played with, which is why I give this game a 3/5 for community. Now, as most games, it's never the actual games "Fault", but making it more teenager friendly, even though that is the majority of online gamers, certainly helped the ruder side of the community settle in and begin their reign of terror. Not all the community is bad, not by a long shot. Actually, I have found some friends that I have kept for years in this game. Overall, yes this game has a pretty good community, but it doesn't have the best community. You will most likely always find help when you need it, or a guild if you need it, but you will most likely always find the rudest people you have ever met. Community should not be something that holds you back from playing this game though, because it's only a small part of the community that makes the game bad, but to me, that part of the community is what "earned" this game a 3/5 in community.
Overall, this game is a game that is without question worth playing. From me, it received a score of 4/5, which from me is very generous, as I almost never rate a game above 3/5. The gameplay, PvP and quest/mission system is exceptional, and should receive praise from all gamers as they are the things that break or make a game, and for this game they definitely made it. Although the community isn't best at all times, it's usually very possible to find people to help you out. If you are a gamer who likes fast action PvP, endless PvE gameplay and a great guild system, this game is the absolute perfect game for you.