(18 votes, average: 3.83 out of 5)


Loading ...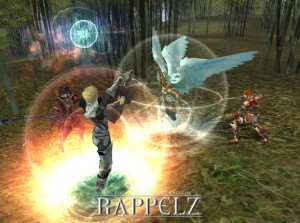 Rappelz is a free MMORPG with nice graphics and a cash shop. Choose from 15 distinct classes, ranging from monster tamers to axe-wielding battle mages. Siege and capture dungeons in all-out guild vs. guild warfare.
Company: Gala-Net
Year Launched: 2006
Premium Account, Advertising, or Item Mall: Item Mall
Free Account Restrictions: None
High End or Low End Computer Needed: High End
Official Site: Rappelz
Game Forum: Rappelz Forums
Pros:
1. Nice 3D graphics.
2. Guild Wars.
3. Makor installments of the game known as Epics.
4. Great pet system.
5. Has its own soundtrack.
Cons:
1. Grind heavy.
2. Several different versions of the game world-wide.
3. Made more for higher end computers than most other Free MMORPGs.
4. Large Download.