(15 votes, average: 4 out of 5)


Loading ...
Shaiya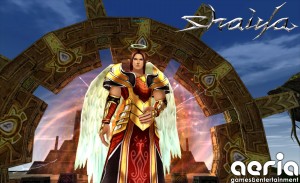 Description: Shaiya is a 3D fantasy MMORPG with a large focus on PvP combat. When you die (as an Easy, Normal or Hard mode character) in Shaiya, you will lose some experience. You also have a chance to lose equipped items or items in your character's inventory, or both. As an Ultimate mode character, all of the previous applies, as well as: if you are not resurrected within 3 minutes, your character is gone forever!
15 Minute Shaiya Review
This is a 15 minute review of Shaiya. Please note that the 15 minutes means the review started from the second of logging in until exactly 15 minutes later. This includes lag and being disconnected.
I expected Shaiya to be a copy of 12Sky, and for part of it I was right. The starting area was snow, and the graphics were grainy. I had played 12Sky for a few days and quit because of the endless grinding starting at level 20, but I had no idea how quick I would be done with Shaiya.
Shaiya is an MMORPG by Aeria Games that pits Light versus Dark. It is renown for it's PvP and gameplay, and it seemed like a good candidate for a long-time MMORPG that would keep me interested.
The download was decent. It wasn't too long nor too short, but I ended up running it over the night. The next day I patched up and got in-game. The game I saw, I was not impressed with at all. The character creation was much like 12Sky in the fact that you chose your gender along with some templates. Regular F2P stuff, I wasn't very impressed. Shaiya is one of the most talked about F2P's in the business, but their character creation did not show that. The gameplay, though, was even worse.
When I finally got through with character creation, I was relieved that I could finally play. I had about 10 minutes, and that time was spent running through the starting area in the snow. As I said before, the graphics were grainy and made me want to poke my eyes out. Maybe it's just Aeria Games and their snow models, but it seems that all of their MMORPGs don't live up to the hype. The game is an F2P, but because of all the hype surrounding it, it just seemed like it would have been one of the best games I've ever played it. The fighting and gameplay was alright, nothing really special from it, but again, it's just the starting area. This game will not be a game I go back and play anytime soon, though it is great for people who can only play F2P MMORPGs.